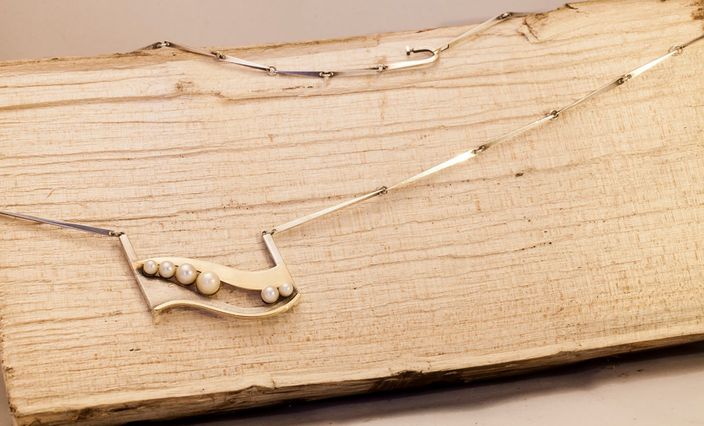 The final test piece made for the end of my apprenticeship
It began with a child with a passion for making things, drawing and animals. 
As my parents were an architect and an artist it's unsurprising that by the age of fifteen I was destined for Art School. It was either that or writing and as I eventually turned out to be dyslexic that might have been a challenge too far until the advent of Windows PCs!
I began night classes in Jewellery & Silversmithing at Glasgow School of Art right away to see how I liked it as it appealed to my love of 'fiddly' things. Turned out I loved it! I was convinced this was the work I wanted to do but not that Art School was the way I wanted to learn - full time education was not my happiest place probably due to the undiagnosed dyslexia. So, I rebelled against the parental scheme and sought an apprenticeship. In the meantime, I continued with those night classes for two years and throughout the 3 years of my apprenticeship.
I found an apprenticeship eventually, which including block release to Glasgow Art School so the best of all worlds. I was  sponsored through the now sadly defunct Scottish Craft Training Scheme to Anne Clare Graham DA. Anne undertook my training in her own Designer Jewellery business, she was also a lecturing at Glasgow Art School.  Once completed I spent a year in retail in Hatton Garden, London - a good grounding. I started my own business just in time for the craft worker market falling flat in the end of the 1980s and then life (babies mostly) took over for a while. I'd hung onto all my equipment and kept my hand in over those years, as much as I could.
Meantime I discovered a passion for photography which fitted a family lifestyle better, working professionally with that in a small way; I gained a Licentiateship from the Royal Photographic Society and still enjoy photography.
Now a Granny with an empty nest I'm back at my bench again - loving every moment. Even the forgotten truth that every jewellers life involves spending 50% of my time crawling about the floor swearing and muttering. Actually that was 30 years ago - failing eyesight and arthritis probably makes if neared 75% now! I find anything my brain has forgotten my hands seem to remember well, a wonderfully familiar, comfortable feeling as I take tools into my hands. Sadly I've also discovered jewellery is one of the most challenging photography subjects I've ever undertaken and a constant challenge - I mean to master it! I still sew too, the Facebook page shows the occasional creation, whilst my photography can be found here  https://www.flickr.com/photos/equsb/
Now it's time to get back to that bench and pretending to be 15 again. With my attendant 3 dogs hoping for an outing and my horse awaiting attention - I've kept those passions with me too!
---